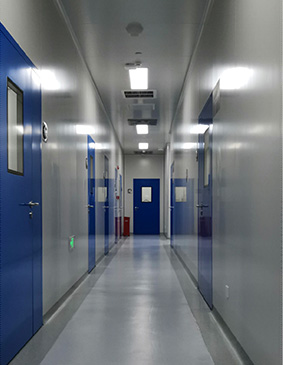 As one of the core facilities of Chinese Institute for Brain Research (CIBR), the Vector Core provides consultation, technical support, and other viral vector related services (including vector construction, packaging, testing, training, and etc.) to all researchers at CIBR.
The Vector Core is located at Room 1013 in CIBR Phase I building. There are about 200m2 experimental area for the Vector Core, including Biosafety Level 2 (BSL-2) laboratories for viral vector production, BSL-1 Laboratory for common experiments such as molecular cloning / vector construction, the instrument room for ultracentrifugation, and the operating room for viral vector injection. The whole process associated with common viral vectors can be performed in the Vector Core, including vector constructing, modifying, packaging, concentrating, and testing.
The Vector Core provides multiple common serotypes of recombinant Adeno-associated virus (rAAV) vectors, lentivirus / retrovirus vectors, and Herpes Simplex virus I (HSV-1) tools. Now we are working on rabies virus (RVdG) tracers, and will provide more viral vectors and tools in the future. Besides providing the pre-packaged ready-to-use rAAV vectors, we can also construct / package common viral vectors on demand and develop and screening novel viral vectors. In addition, the Vector Core is also committed to establishing / maintaining the sharing library of common plasmids and cells within CIBR. In order to improve the instrument using efficiency and facilitate the scientific research, the Vector Core shares some equipment as well as experimental spaces in CIBR. We also assist performing some basic molecular and cellular biology experiments for the groups rarely working on this fields.